In comparison with bulk materials, nanoparticles possess a much higher concentration of electrons per surface unit. Therefore, attractive properties of metal nanoparticles result from their coupling to electromagnetic field via surface electromagnetic modes called surface plasmons. Localized surface plasmon resonance (LSPR) phenomenon is a collective oscillation of free electrons in nanosized structures of high-conductive metals (e.g. Au, Ag, Cu, Al, etc.), resonantly induced by incident light (Fig. 1). LSPR is accompanied by the localization of incident electromagnetic field near the surface of a nanoparticle that results in an enhancement of this field (Fig. 2), which is a basis of various surface-enhanced techniques such as surface-enhanced Raman spectroscopy (SERS), surface-enhanced fluorometry (SEF) and surface-enhanced infrared absorption (SEIRA). LSPR spectroscopy of metal nanoparticles itself is a promising method which will make important contributions to the analytical sciences.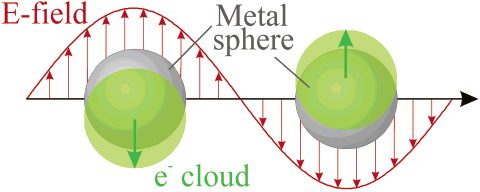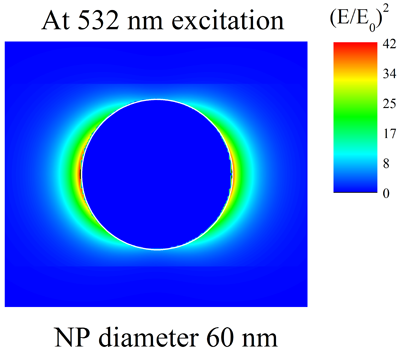 Promising applications of LSPR:
study of biomolecular interactions;
biosensors;
medical diagnostics;
investigation of nanomaterials;
surface-enhanced spectroscopies;
new drugs development;
environmental monitoring.